I am linking this post up with the very lovely Jaime from TheOliversMadhouse, someone who has become a real blogger friend to me.  She makes me laugh and smile and always has so many lovely things to say.  I wish that I lived close to her so that we could go out for coffee and a healthy snack cake! This is her brand new weekly linky Magic Moments – Yes Mrs O, I've been singing that song,whistling and thinking about Quality Street ever since you told me about this!
As this is Jaime's first Magic Moments, I decided that I would start at the beginning of my extra special Magic Moments (well almost the beginning)
Finding out that I was pregnant with our son is one of the very significant Magic Moments of my life.  However, as most of you know, things didn't turn out as we had hoped.  So this Magic Moment is probably realistically about 250 Magic Moments.
Here are most of them, all in one big pile!
I honestly do not have a freakish obsession with peeing on little plastic sticks.  However, when I found out that I was pregnant again, major paranoia kicked in.  I was convinced that it was all going to end horribly.  Being pregnant again after a loss is a real double-edged sword.  My lovely pregnancy journey was marred with fear, in fact terror.  So yes in the early weeks, I was a testomaniac.
I know it was a bit daft, a pregnancy test does not measure the viability of a pregnancy and it cost a blinkin fortune!  However, each and every time that I saw those two little lines or the words pregnant on a digital test, my heart would soar and the fear would momentarily subside.  Each of those packets in the picture represents an amazing Magic Moment.
Thank you Jaime for making me decide to share my deep dark pee stick secret – ha!  I think there are therapists out there that will be getting in touch with me – argh!
Why not pop across to TheOliversMadhouse and join in with your Magic Moment.  You don't have to humiliate yourself like me honest……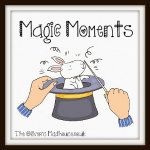 Tiny URL for this post: