Today our lives changed a little once again.  Our routine, altered, our long lazy mornings gone.  The day that has been waited for all summer
 long arrived.
Yes, my 3 year old BABY! has been snatched away to nursery school. My first born daughter, my miracle baby, has of today begun her journey in earnest into independence. I was excited for her, I know how good this will be for her, but, oh my word, it doesn't half stab you in the heart. Suddenly after just over three years, I have to entrust one of my most precious assets to the care of strangers. Albeit, they are teachers and nursery assistants, but strangers nonetheless.
I didn't cry (I'd done that the night before!) I did, however, have to fight back the tears as I brushed and tied up her hair.  I kissed the top of her head a little bit longer than normal, when I gave her a hug, I squeezed a little bit tighter.  As we entered the building, she faltered, ever so slightly, her hand sunk into mine a little bit deeper. Then it happened, the lure of the nursery classroom took over and I felt those little fingers slip out of my grasp, she looked up at me with those deep cornflower blue eyes and said "I think I'll go and paint mummy".  In that moment, my little girl grew up just a little bit more. Tomorrow, she is on her own, the parents relegated to the outer limits and as odd as it may seem, I want her to let go of my hand quicker, I want her to want me to leave. I want her to soar.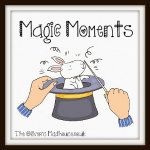 Tiny URL for this post: